Congratulations to all students once again! Fun and Friends Awards Ceremony 2017 was held successfully on 30 June 2017.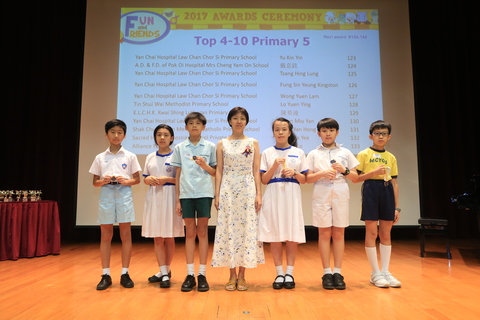 We would like to express our gratitude to all guests, principals, teachers, students, and parents, for your immeasurable support and encouragement. Throughout the Awards Ceremony, the achievements of 310 students were recognised with cheers and applause. These successful students will be encouraged to continue their learning journey and pursue their goals.
Because of your support and encouragement, we will continue providing quality, innovative educational experiences.
We look forward to seeing you at the 2017-18 awards ceremony!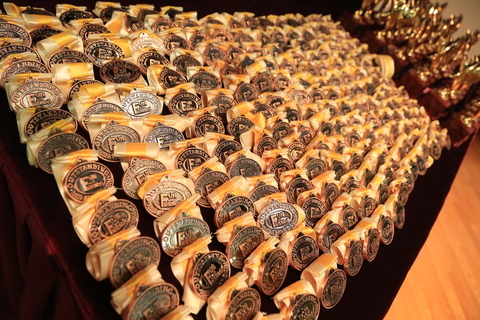 ---
Photo Highlights
---
MCs
---
Click to view more photos:
---
Student Sharing
6A, La Salle Primary School

I have learnt a lot in Fun and Friends, an interesting online English learning website, for six years. While doing the exercises, I understood the uses of different phrasal verbs, nouns, adjectives and much more. There are not only rewards after each assessment, but also playground points and total score, to motivate me to achieve more. In order to earn more points and marks to buy animals or to be the Pupil of the Year, I need to do my best in the challenges. Fun and Friends is really a superb English learning website which enhances my knowledge. I am looking forward to learning more from Fun and Friends in the future.




Chiu Ho Hin Geoffrey

1D, Baptist (Sha Tin Wai) Lui Ming Choi Primary School

My name is Mok Ho Ching, Michael, I like doing Fun and Friends. Because It helps me learn and improve my English. I could read, play and watch videos to learn English. My favourite cartoon characters are Dora and Boots. They are good friends, they always help each other. For the coming September, I will continue my learning journey. This year I won an award, so I am very happy! I would like to say:"THANK YOU FUN AND FRIENDS!"




Mok Ho Ching, Michael

1C, Shak Chung Shan Memorial Catholic Primary School

Hi, I'm Vincy So from Shak Chung Shan Memorial Catholic Primary School. Even I have joined Fun and Friends learning platform just in the first year of my primary school life but it gave me a fantastic learning experience. This superb learning platform provides a fun learning environment for me and I will joyful over it in my future school life surely!




So Wing Sum

P1D, La Salle Primary School

I am Stephen Ng from La Salle Primary School. I am so glad that I can learn English through 'Fun and Friends'. I enjoy exploring funny videos and friends. I appreciate this on-line learning programme because each step usually builds upon the previous. Although it needs my perseverant accomplishment, the champion award has told me that my hard work and earnest effort has paid off. I will try to get a prize next year.




Stephen Ng Cheuk Lam

A.D. & F.D. of Pok Oi Hospital Mrs Cheng Yam On School

Hi, my name is Takeshi Watanabe from MCYOS. Today, I would like to share my thoughts about FNF with you and explain why FNF is important and helpful in English self-learning. First of all, English is one of the most widely used languages in the world. There are about 360 million English speakers and half a billion people, speaking English as second language. Since the majority speaks English, it can definitely help us success in many ways such as communicating/interacting with others, getting new friends, doing work/business and etc. As you are reading my article now, you have the same believe as mine. At least you would agree what I just say. Secondly, as we are living in a Chinese society, we don't really have many chances to use or practice English outside of school. As we all know that, the more you do the more you learn, the more you familiar with and the more confidence you have. Therefore, we should take additional efforts in English learning outside of school, such as taking FNF courses. Finally, we have million things to do every day. We don't really have time to join any extra regular classes, sitting in classrooms with fixed location and time. Thank you for advance of the internet. Online learning becomes the best way to learn without the constraints of location and time. There are many online learning courses offered, however, it is not easy to find a course which attracts, encourages and motivates us to learn by ourselves. Before I took FNF courses, I was not willing to log-on FNF. I thought FNF offered traditional teaching styles i.e. boring reading, doing excises and taking quizzes/examinations. However, once I logged-on FNF, I found that it is amusing, watching cartoons and learning English at the same time. The cartoons are interesting which attracts me to watch more and the questions about the cartoons are challenging which makes me to pay attention to the stories. In conclusion, English is important in our daily life and is a key of success. In order to improve our English level in a Chinese society and without concerning place and time, we should take additional English courses via internet. FNF provides us interest learning materials for self-learning in leisure time. We can enjoy watching and learn English at the same time. I have learnt a lot of new words and knowledge from FNF. I hope others would find the same as mine. If you have not yet tried, you should try and enjoy the same experience as mine.




Takeshi Watanabe
---